RECORDING UNDER THE SNOW MOUNDS
SAPPORO, HOKKAIDO, NORTH JAPAN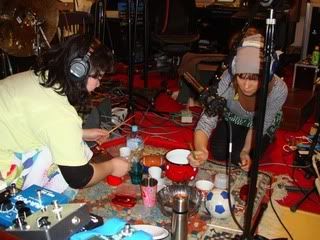 Yumichan who I met in October when we played together in Sapporo came and joined in with the kitchen percussion recording for the song about making onigiri
Re-arranging Hedgehog (usually on piano) for organ and clarinet
This is Richard who`s studio I recorded in last week for 6 days. He was very nice to work with, attentive and patient, always choosing the best microphone for the job, and his microphone collection was pretty phenomenal. The most exciting microphone used in the 6 days was a telephone microphone, which was made of copper with a circle of holes in the end, and if I had a mantlepiece I`d want to put it there so I could look at it everyday!
THE BRIGHT WHITE DAYS ABOVE
when i popped up to see the day I had to squint into the bright sun shining off the snow.
When I walked past the park I witnessed what happens to all the excess snow. The army (who aren`t leagally allowed to fight) dump it in the park and errect scaffolding around it. Then they carve it into life size 4 storey famous building for a snow festival in February. I saw a middle-eastern style dome poking out from the scaffolding and grinned to think that it had been carved by the hands of a soldier!
Sapporo from Yagiya where I stayed in the hills for 3 nights
morning walk in snow shoes
Here are photos of mine and Eiichi`s fairly last minute exhibition in Seant, Nagoya. While I was underground recording in Sapporo, Eiichi was searching through Nagoya`s junk shops so that when I returned I was greeted by his musical tower. To stand beneath it is to have music raining down from the horn on the top. Needless to say it`s our music that comes out, compiled by Eiichi the curator....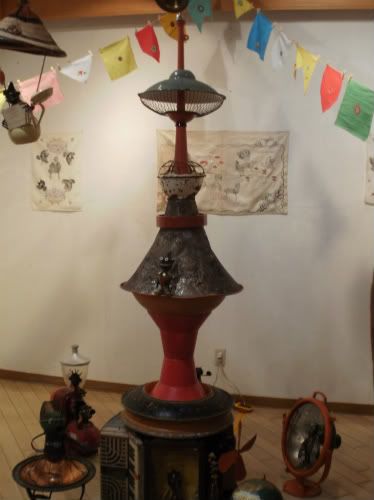 When Eiichi used to work as a shoe repairer, every day he took the off cuts of rubber and made these rubber people. In this exhibition there are just some of the 150 that he made over 5 years.