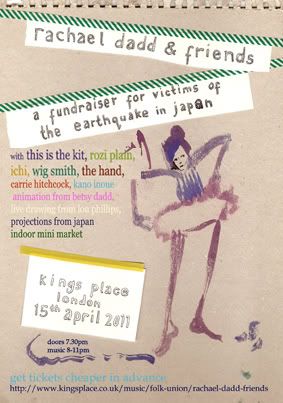 I`ve been watching the disasters unfold in Japan to a nation of people I've grown to know and love. During my time spent travelling in japan over the last 3 years I have been shown a truly amazing amount of kindness & warmth. Always interested, always fun, so keen to learn and understand other cultures, Japanese people are incredibly welcoming and hospitable as a nation. I will always be indebted for the experiences I am continually given in Japan.

Please come together and share a night of music and projections from myself and friends (a lot of whom have also experienced such kindness in Japan. As well as lots of live music, there will be projections of animation and live drawing and we will show some of our time in Japan through photos and film)

All the profits of this event will be shared equally between the Red Cross Japan Tsunami Appeal and Nomadamura, an island community south from the disaster who are offering shelter and food for many families from the northern regions hit by the Tsunami.
www.myspace.com/thisisthekit
www.myspace.com/roziplain
www.myspace.com/thehandand
www.myspace.com/ichijapan
www.betsydadd.blogspot.com